Even though crepes seem like the easiest most trivial recipe to put together, they often turn out crunchy, they get hard when they are cold and are not very tender. So for the best crepes results you need to have a couple of secrets in your sleeve.
The secrets are:
have enough fat in them. The best is to put almost the same grams of flour as eggs, but you can put less eggs and add a bit of butter instead.
cook them fast so that less water evaporates.
one extra secret for the filling at the end of the recipe
Here are the details of my recipe!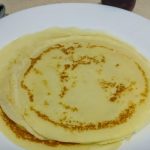 Crêpes
Servings: 2
Preparation time: 10 min
Cooking time: 25-30 min
Difficulty: medium
Ingredients
187 g flour
3 eggs
375 ml cold milk (I use 1.5% fat, since I like to add butter for more fat)
60 g melted butter
1.5 tablespoon vanilla sugar (12g)
pinch of salt
Directions
Mix up the flour with sugar and salt and then add the eggs one by one, butter and slowly mix the milk in.
The dough should be very liquid.
Heat up the pans until they smoke a bit, they should be very hot. I always like to use two pans to make the process faster.
Pour in a ladle of dough (how much depends of the size of the pan, but aim for a thin layer) and cook it on each side for 30 seconds. You can cook it more as well if you prefer lower fire, but the longer it is cooked the more liquid evaporates. But if you eat them immediately the result will be tender anyways.
Cover them with your favorite spread. Here comes my third secret: the best possible filling I can think of is butter with a bit of powder sugar and cinnamon.plum jam (that doesn't contain sugar) is fitting amazingly well.