This pulled chicken sandwich with blue cheese is from the series of recipes with pulled chicken. A recipe that is very easy and cheap to make and that you can have at your disposal for inventing all kind of fast and warm dishes, high in protein.
This is my favorite way of eating the pulled chicken, it goes surprisingly well with blue cheese and it is very fast to make, once you have the chicken ready in your fridge.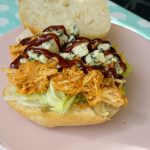 Pulled chicken sandwich with blue cheese
Preparation time: 5 min
Difficulty: easy
Ingredients
1 bread bun
green salad
2 big tbsp of pulled chicken
blue cheese
barbecue sauce
slice of tomato (optional)
Directions
Cut the bun in half and place the salad.
Warm up the chicken and layer it above the salad.
Add as much cheese as you like and you can put a slice of tomato, too.
Add the buffalo sauce and you are ready in under 5 min for a delicious and warm meal.
If you would like to check out the pulled chicken recipe, you can read it here. Also, for another idea with pulled chicken, I have invented this colorful burrito recipe idea, too: burrito recipe. All of them are a great source of protein and surprisingly easy to make, once you have the pulled chicken ready, so my advice is to make as much as possbile once and have it for at least 5 days and invent more recipes, so that it doesn't get boring.