This pate recipe is one of the best pates I ever had. And the best part is that you can make it home and in under 30 minutes.
I did not invent this recipe, it was shared with me. The combination of red wine, with liver, sage and rosemary is really good! Here's how to make it: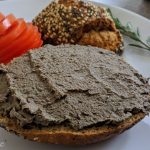 Chicken liver paté
Preparation time: 15-30 min
Difficulty: easy
Ingredients
500g of chicken liver
4 tbsp of olive oil
2 twigs of rosemary
2 twigs of sage
1 garlic clove
half a cup of red wine
2 tbsp of capers (the recipe contains no other salt)
2 tbsp of balsamic vinegar
8 tbsp of butter
Directions
Cut the garlic and the herbs.
In a bigger pan heat the olive oil. Then add the liver, herbs and garlic, and wine.
Simmer for 10 min, making sure you don't overcook the liver. It should just not be raw inside anymore.
Melt the butter.
Blend the whole mix, while incorporating the butter too. You can blend it as smooth as you like. It will be a bit liquid, but it will harden.
Chill the pate overnight in the fridge.
This recipe is supposed to be eaten fast. If you want to avoid oxidation, you can melt butter and take only the ghee and pour it on top of the pate.
Enjoy it with some fresh bread, it is a delicious breakfast.