The best thing about having a bad experience at a random KFC is that you learn how to make KFC yourself at home.
Their recipe is secret it seems, but how nothing is secret and even the best technology leaks, I managed to find one or two sources that brought me really good results.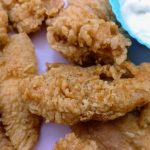 KFC chicken (1.3 eur/portion)
Resting time: 12 hours
Preparation time: 1 hour total
Difficulty: easy (but messy)
Ingredients
For the marinade
500 g chicken breast (better if a bit thicker) (3.5 eur)
300 ml of cold water
3 cloves of garlic
8 g of salt
half a lemon (0.3 eur)
1 tsp of spicy paprika
For the coating
200 g of flour (0.3 eur)
8 g of baking powder (very important)
8 g of salt
1 tsp of paprika (or spicier blended pepper, if you have)
1 tsp of blended black pepper
Directions
Cut the chicken in the desired shapes. It is better if you have it thicker than in my pictures.
Place it in a big bowl and add the cold water, smashed garlic, squeezed lemon and the paprika.
Let it marinate for 12 hours.
Prepare the coating: mix the flours with salt, pepper, paprika (the spicier the better) and, super important for the chicken to get crunchy, the baking powder.
The mixture should be in a container that you can close and seal (and vigorously shake).
Place 3-4 pieces of the drained marinated chicken in the flour mixture.
Close the container and shake for 10 sec.
Take out the chicken and place it for 20 sec in very cold water.
Place it back in the flour mixture and shake for another 10-15 seconds. It will have the scaly texture we want.
Bring your frying oil to 160 C and start frying the chicken, without crowding the pan.
It should take for about 10 min.
Pat it with some kitchen towels and your KFC at home is ready to be served.
You can eat it by itself with ketchup and mayonnaise. Or in a sandwich with mayo, pickles, the chicken, tomatoes, salad and pickled jalapenos.
Or even better, make a twister: add some lemon and grind pepper in your mayo, spread it on a warm tortilla wrap, add your chicken, tomatoes and salad, an absolute delight.