This baked feta lunch is a perfect solution for a quick lunch, for those days in which you don't have anything prepared but you also don't feel like cooking. It is very fast, quite light and surprisingly delicious. And I bet it can even be done in the microwave on the grill function!
Besides, if you skip the bread and replace it with some carrots or celery sticks, it makes a perfect low-carb snack.
This recipe was an inspiration from a Youtube Channel  that I really like to follow: Retetele Mihaelei.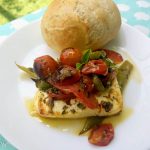 Baked feta cheese with oregano
Servings: 2
Baking time: 20 min
Diffculty: very easy
Ingredients
100 g of feta cheese (you can double it for more portions)
10 cherry tomatoes (or 2-3 normal tomatoes)
1 green pepper
oregano
2-3 tbsp of olive oil
Directions
In a cast iron skillet or any other tray resistant to oven and a bit deep, sprinkle some olive oil.
Add half of the tomatoes and pepper and sprinkle some oregano.
Add the cheese and more oregano.
Place on the top the rest of tomatoes and pepper and sprinkle more oregano and olive oil. Do not add any salt, since the cheese probably has enough!!!
Bake it for 15-20 min at 220 C.
Serve it hot with some more fresh basil on top and some hot bread (you can microwave some fresh or frozen bread for few seconds). Here is how this delicious quick lunch looks like: