The amazing Jollof rice is a popular dish in West Africa. In terms of African food, I have to admit it never lets me down, I really loved every single dish I tried so far. The Jollof rice has many variations, but the Nigerian one uses as a base a tomato and pepper paste. This one-pot dish is simple to make and very delicious. I have found that the curry and thyme combination is divine, definitely worth trying.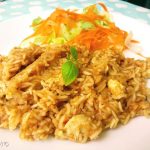 Jollof rice
Servings: 3 (1 eur/portion)
Cooking time: 45 min
Difficulty: easy
Ingredients
150 g of jasmin rice (0.2 eur)
200 g of chicken breast (1.5 eur)
2 big tomatoes (0.5 eur)
1 red bell pepper (I used green, since I did not have red at hand) (0.3 eur)
2 red onions (0.2 eur)
1 stock cube
1 tsp of curry
ginger (the size of a tablespoon) (0.2 eur)
1 tsp of thyme
chili flakes
2 tbsp of sunflower oil for frying
Directions
Cut one red onion and start frying it in a wok in 2 tbsp of sunflower oil.
After 3 min, add the chicken cut into small cubes and let it brown for about 10 min.
Add 1 tsp of curry and let it infuse for one min.
Blend together the tomatoes, pepper, onion and ginger until it forms a very smooth paste.
Pour the paste over the curry chicken together with one cup of chicken stock dissolved into hot water.
Season with salt to taste and 1 tsp of thyme.
Add the very well washed rice.
Bring it to a boil and cover with aluminum folio and a lid and simmer on low fire for 35 min (I used the setting 3 n the beginning and then 2 out of 10).
Serve as is or with some fresh salad. It is simple and delicious!


If you would like to check out more ideas for cheap and delicious recipes, you can check my category here.