As simple as this warm breakfast with tomatoes is, as much it will impress you by how it tastes. Despite the fact that it is a very common meal in Hungary (lecso) and in Romania (tocanita de rosii cu ou), it can be a quite surprising combination to break an egg in tomato paste.
I like this meal especially that I can save the overly ripe tomatoes that I can't use for anything else and are absolutely perfect for this. The green pepper and the minced black pepper give it an amazing flavor and the egg is there to make it both very nutritious and more solid.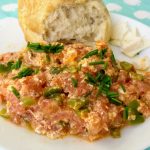 Warm breakfast with tomatoes
Servings: 2
Preparation time: 5 min
Cooking time: 10-15 min
Difficulty: easy
Ingredients
2 big very ripe tomatoes, but NOT the most juicy type
1 small green pepper
2 eggs
salt and black pepper
2 tbsp of oil
bread (optional – if you would like this to be a low carb version, you can add an extra egg for texture)
Directions
Peel off the skin of the tomatoes and cut them into small cubes.
Put the tomatoes in a pan with 2 tbsp of warm oil and let them simmer until they get very tender and start to form a paste.
When they almost formed a paste, add the green pepper cut into small cubes. You can add it earlier if you like the pepper well cooked, but I prefer it crunchier, so I cook it less.

At this point, season with salt and black pepper to taste.
When the pepper has the desired tenderness break the eggs directly into the pan.
Mix them in. You can mix them very slow if you want bigger pieces of egg white or very fast if you like the egg to be mixed into very tiny pieces.
Serve it hot with some freshly cut chives.
If you would like to see more ideas for low-carb and healthy breakfasts, you can check my other posts here.