This pita with marinated chicken and mint yogurt sauce reminds of middle eastern combinations, a perfect and healthier replica of the street food and a quick meal to prepare.
I chose to marinate the the chicken in masala style, except that I also added cumin, which gave it a falaffel feel. The veggies to be used are up to you, but I think cabbage and tomatoes are fitting very well. The great advantage is that you can cook the chicken in one go and have 5 extra portions for the next days.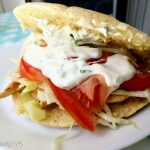 Pita with marinated chicken and mint yogurt
Servings: 6
Difficulty: easy
Ingredients
For marinating the chicken (enough for 6 portions)

700 g of chicken breast
70 g of Greek yogurt
1 clove of garlic
1 tsp of fresh ginger
chili flakes
1/2 tsp of ground cumin
salt and pepper
For filling one pita
2 tsps of hummus
9-8 pieces of chicken
cabbage salad
3-4 slices of tomatoes
4 tbsp of Greek yogurt
fresh mint and chives
Directions
Cut the chicken in thin slices and season it with salt and pepper. Then mix in the yogurt, diced ginger and garlic, chili flakes and cumin. Let it marinate for one hour.
Fry the chicken in very little oil on medium fire. I use two pans for speeding up the process. Fry it first on one side without moving, until golden. Then fry it on the other side until golden, too. Do not overcrowd your pan!
For the hummus: you can buy it ready made or you can make it yourself. If you would like to see my recipe for a very creamy hummus, you can check it here.
The cabbage salad needs some quick preparation as well. This is one of my favorite Romanian salads, and it is simple – just season the cabbage with sunflower oil, apple vinegar and salt.
Warm up a pita in a cast iron skillet or a toaster.
Cut it in the middle, leaving the bottom uncut.
Add on the bottom layer the hummus and the chicken pieces.
Above them stuff in as much cabbage as you can and few slices of tomatoes.
Season it with yogurt dressing: mix in 4 full tablespoons of Greek yogurt some freshly cut mint and chives. For extra flavor you can add some salt and squeeze in a bit of lemon juice, but this is fully optional.

Looks very difficult to eat at first, but the pita is quite roomy and stretchy, so you will be able to gather it and enjoy it until the very last bite. It is a very flavorful meal, with a taste of freshness due to the mint and very nice balance between the sweet and sour ingredients. We are having tomorrow a third round!