Gazpacho is the strong competitor for the other cold soup from South of Spain, salmorejo. I did not find yet a person who liked both soups, you have to prefer one or the other. But for the rest of us who are not Spanish, I can tell you that both soups are delicious.
The difference between these two soups is the following: gazpacho contains extra ingredients – pepper, cucumber and shallot. The common ingredients for both soups are tomatoes, garlic, dried bread, vinegar, olive oil and salt.
Gazpacho requires a bit more work and its taste is more watery and richer, due to the shallots, cucumber and pepper. There are people who don't use the shallot and some that don't add the garlic, but in this version I added both.
Here's how to make it!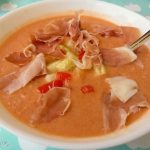 Gazpacho
Servings: 2
Preparation time: 15 min
Difficulty: easy
Ingredients
4 ripe tomatoes – preferably cold
1 piece of dried bread
1 clove of garlic
1 small shallot
1 small green pepper
1 cucumber
4 tbsp of olive oil
1 tsp of vinegar
water to thin the soup
salt to taste
optional for decoration: extra cucumber, pepper and jamon serrano
Directions
Peel the tomatoes (or you can pass the soup through a strainer at the end) and the cucumber. Prepare the rest of the ingredients as well, clean the pepper, shallot and garlic, moisten the dried bread in some water. It is important that your vegetables are cold if you want to serve the soup immediately.
Blend all the above together with salt and vinegar, on high speed until everything is well mixed.
Add the olive oil and water if you need the soup thinner (you will need a lot less water than for salmorejo) and blend it for one extra minute.
Serve immediately decorated with pepper and cucumber or you can also add jamon serrano or boiled egg for extra proteins.
If you would like to see my salmorejo recipe you can click here.