The aglio e olio spaghetti  is a very fast dish by default. But to make it even faster, I cheat with the parsley: instead of chopping it fresh, I use a chopped frozen version and the result is great. This is for the days when you really need a meal in under 10 min.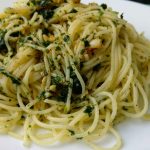 Aglio e olio
Cooking time:  7 min
Difficulty: easy
Ingredients
75 g of spaghetti
3 cloves of garlic
4 tbsp of olive oil (or more if you don't mind the calories, this is the secret of this pasta)
chili flakes
juice from half a lemon
2 tbsp of frozen parsley
freshly grind pepper
Directions
Cut the garlic into very fine flakes.
In a pot start boiling the water with a lot of salt and in a pan start warming up the olive oil on low fire.
Add at the same time the spaghetti in the boiled water and the garlic in the olive oil pan (on medium fire).
Once the garlic start to get brown, stop the fire and add the chili flakes.
Take the al dente pasta out of water and put it directly in the olive oil pan. Make sure it has a bit of liquid in order to get a creamy pasta.
Add any extra salt if needed and freshly grind pepper and the lemon juice.
Add the parsley and it is ready to be served.
If you are a spaghetti lover, you will find that aglio e olio spaghetti is amazing. Do not be scared that it will be very strong because of the garlic, because it is tamed by the slow cooking and gets slightly chewy and caramelized.
If you would  like to get more recipe ideas with pasta, you can check my pasta category here.