This ratatouille swirl recipe is a very nice and elegant variation of the classical recipe. It is clean to make, in one dish and in the oven, so all you have to do is to assemble it. It can be served  next to any low carb dish (like a chicken steak) or even pasta, both work perfectly.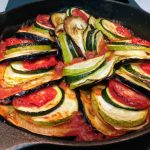 Ratatouille swirl
Servings: 4
Baking time: 1 hour
Difficulty: easy
Ingredients
1 can of chopped tomatoes
2 garlic cloves
1 tbsp of dried basil
1 tsp of dried oregano
chili flakes (optional)
salt and pepper
2-3 tbsp of olive oil
1 big zucchini (or two small ones from each color)
1 big eggplant
one red onion
1 big tomato
Directions
In a cast iron skillet mix the tomato can with the chopped garlic, basil, oregano, chili, salt and pepper to taste and 2 tbsps of olive oil.
Cut the vegetables in big round shapes. I used white onion, but the red one is nicer and sweater.
Arrange the vegetables in the same order in a swirly shape. Add the rest of the veggies in the middle.
Brush them with 1 tbsp of olive oil and sprinkle some salt and pepper on them.
Bake them for 1 hour at 175 C.
Enjoy them with your favorite pain meal or spaghetti.