This biscuit salami recipe makes part of my series of recipes from the communist era in Romania. Last time I made pasta with curd, a recipe with cheap ingredients and very fast to make. This was in fact the whole idea behind these recipes – make something fast, from ingredients that could be found and used even if they were getting old.
Take the biscuits for example: they will be softened in buttered milk, so even if they were hard and impossible to chew, this recipe was transforming them into something delicious. The walnuts and milk and butter  were usually present from the house animals and trees. You needed just some cheap and hard biscuits to make a delicious dessert for the whole family.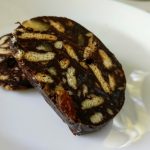 Biscuit salami
Servings: ~20 pieces
Preparation time: 20 min
Resting time: over night
Difficulty: easy
Ingredients
300 g of  biscuits (sweet, if you are using integral ones, you need to add at least 40 g more of milk)
120 ml of milk
100 g of butter (a great less caloric choice here is to add a banana instead)
35 g of cocoa
1 tsp of cinnamon
1 tbsp of rum essence (or less if you find it too strong)
35 g of broken walnuts
35 g of raisins
shredded coconut for rolling (optional)
any other dried nuts or fruits you wish, optional: pumpkin seeds, Turkish delight etc.
Directions
Break the biscuits into pieces. Leave some bigger, some smaller, some completely crushed. If they are not sweet, you will need to add sugar in the mixture… but I can't find unsweetened biscuits even if I wanted to. You can have integral biscuits, very sweet or medium sweet, depends how much sugar you want to spare from your diet.
Warm up on small fire the milk with butter, until the butter is melted.
Put in the milk the biscuits, then cocoa and cinnamon, raisins and walnuts and the rum essence. You can choose any nuts or dried fruits you want, walnuts and raisins are just the classical, sometimes I use goji and pumpkin seeds, even Turkish delight is possible, but the classical works the best for me.
Mix well until they are fully combined. The mixture will be fairly solid.
Place the mixture on a big plastic wrap.
Gather it in the middle in a tube shape.
Wrap the mixture in the plastic and roll it on the table until it gets into a salami shape. Twist the ends of the plastic in and let it rest in the fridge over night.
Once it's done, cut it in slices and savor o piece of delicious inventiveness!