I've been meaning to cook shepherd's pie for so long: this is a very comforting, easy to eat food. Can be made in a big portion and have ready meals for many days. A bit time consuming to prep it, but very easy.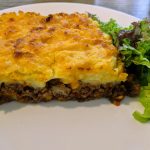 Shepherd's pie
Servings: 8 portions
Preparation time: ~ 1 hour
Baking time at 180-190 C: 25 min
Difficulty: easy-medium
Ingredients
1 kg of minced beef
2-3 tbs of oil
2 large carrots
1 medium onion
1 quarter of celery root
50-60 g of frozen peas
400 g of canned tomatoes
3 garlic cloves
1 tsp of pepper
1 tsp of thyme
1 tsp of sweet paprika
chili flakes to taste
salt to taste
1 kg of potatoes
450 ml milk
40 g of butter
100 g of grated cheese
Directions
In a well heated pan, fry the meat  on medium-highin the oil until it evaporates the water and it gets brown.
Dice the celery root, carrots and onion.
Add the diced veggies and frozen peas to the pot.
Add a bit of water so that the stew won't burn.
Cook on medium fire for additional 10 min or until the veggies are a bit soft.
Add the canned tomatoes and cook for 3-4 more min.
At the end add the: pressed garlic, thyme, paprika, chili, pepper and season with salt to taste.
For the potato puree: cook the potatoes directly in the milk with salt. Press the potatoes and mix in at the end the butter and cheese.
The two parts are ready.
Now pour at the bottom of your pan the meat mixture and press it slightly.
Add the potato puree.
Bake at 180-190 degrees C with ventilator, heat up and down for 25 min.
Let it rest for at least 30 min. It is a lot better to serve even the second day.
Enjoy as is or with some salad or pickles.