Solomillo or pork tenderloin is one of my favorite ways to cook pork. And this recipe is very simple and fast. If you want to check out my other solomillo a la pimienta recipe, click here.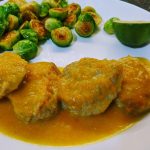 Solomillo in carrot sauce
Servings: 4
Cooking time: 30 min
Difficulty: easy
Ingredients
500 g of pork tenderloin
1 onion
1-2 carrots
1 clove of garlic
100 ml whine
200 ml of chicken stock (or a chicken cube with water)
1 tbsp of cornstarch
salt and pepper
olive oil for frying
Directions
Cut the sirloin into thick round slices.
In a saute pan, start frying them in the hot oil on medium heat, until it browns on one side, 3-4 min. You can salt the meat on the uncooked part.
Turn it on the other side and cook it until it browns. Salt it on this side as well.
Put the meat aside.
Saute the onion and carrot. After a few min, add the garlic.
Pour in the white wine and let it cook for few min.
Add the cornstarch and mix well.
Add the water and the chicken cube.
Cook until everything is soft and then blend it into a smooth paste.
Add the reserved meat and cook it for 2-3 min on low fire or until the meat warms up.
It is ready to serve with your favorite side dish. I went for a low carb version here. If you want to check out my skillet roasted Brussels sprouts recipe click here.