Curd is my favorite way to eat dairy products. I found out about this Russian recipe that uses curd as the main ingredient and I was obsessed with trying it. I have to say that my expectations were as high as these pancakes are delicious. And I think they are pretty healthy too.
Here is how a Russian mom told me to make them!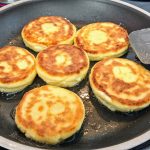 Syrniki
Servings: 6 pieces for 2 people
Preparation time: 5 min
Cooking time: 10-12 min
Difficulty: easy
Ingredients
250 g of curd
1 egg
1 tbsp of sugar
2-3 tbsp of flour
half a tsp of baking powder
more flour to roll the pancakes
toppings: sour cream, condensed milk, jam etc.
1 tbsp max of oil for frying
Directions
In a bowl combine all the ingredients: curd, flour, sugar, baking powder, egg.
The dough will look pretty soft and be sticky.
Roll 6 balls, helping yourself with lots of flour on your hands.
This step is optional, only if you want them to be evenly flattened: place some flour on a board, put the syrniki ball in the middle of it and put a glass on top of it. Roll it fast for 3 seconds. it will flatten on one side. Do the same on the other side and they will be nice a flat, ready to be fried.
In a pan heated on medium fire add a few drops of oil.
Place the syrniki in the pan and fry them on medium fire for 5-6 min or until they are nice and golden.
Flip them and fry them for another 5-6 min.
Let them cool off for 5 min.
Serve with your favorite toppings. I like sour cream and jam, but it can be anything, including nothing at all. Enjoy!